Do you remember your favorite coach? It's amazing to think of how impactful coaches can be in our lives. Even years later (or decades, for some of us) – it's hard to forget the impact of a truly effective coach.
The start of a new year is a natural time to reflect, and to think ahead to possibilities and how we'd like the next 365 days to play out. As a NICA coach, it's also the perfect time to consider our personal coaching philosophies.
Why do you coach? Try this exercise: fast-forward to your team's end-of-year celebration; a group of families/athletes are chatting about your team, and how the season went. What would you want them to say? As they reflect on your role as a coach, what kinds of qualities would you hope to hear them highlight?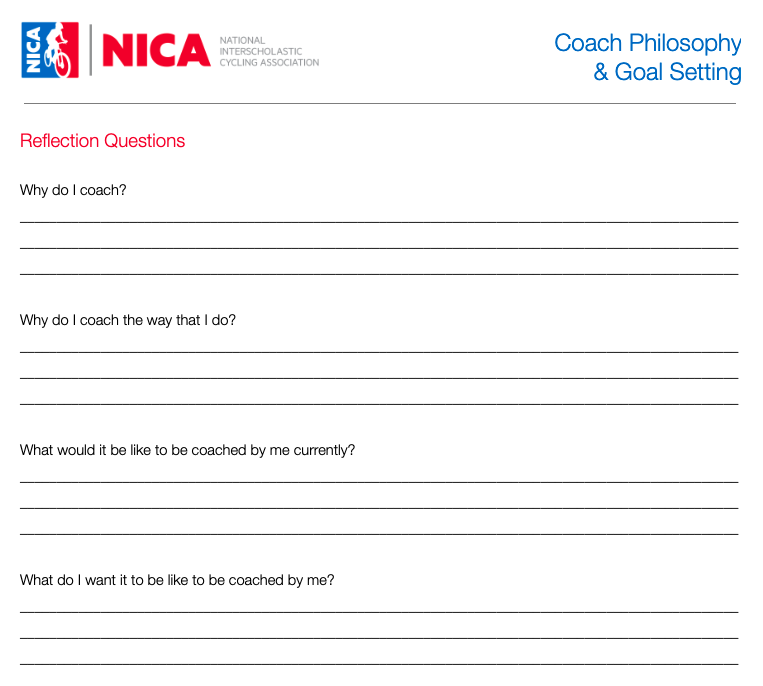 In Coaching Better Every Season, author Wade Gilbert shares several examples of pioneering coaches' and their coaching philosophies. A key theme emerges when Gilbert examines the stories of successful coaches across disciplines: successful coaches always place athlete development at the core of their coaching philosophy. This doesn't always mean that the end result of a "successful coach" is a highly-competitive athlete.
So, what does success look like to you in your role as a NICA coach? This isn't an easy question, and it's not a question that anyone else can answer. So, as we kick off 2023, we encourage you to take a moment to reflect on your own athlete-centered coaching philosophy. Use our simple philosophy and goal setting worksheet to get started, or get some inspiration from other legendary coaches like John Wooden.
Being intentional about your goals and philosophy as a coach provides clarity for you, and for your athletes. And it makes an impact. You never know who you will inspire! As a current NICA coach, I actually quote one of my favorite former hockey coaches' advice fairly regularly: it's always OK to make mistakes, because making a mistake means you're pushing yourself to learn and grow. Even 12 years after lacing up my skates for the last time, this coach had a lasting, positive impact.
Create your own coach philosophy today, using these simple tools:
---